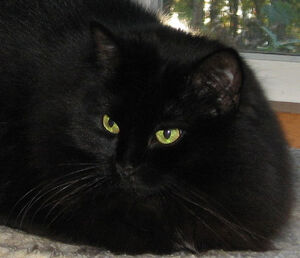 Appearance
Edit
Wishflight is a long-haired, pure black she-cat with green eyes.
Wishflight is a warrior.
Wishflight was raised in ReedClan.
Her mother, Tulip, was a kittypet, but her father, Herringtail, is ReedClan. She was reared by her father, as her mother didn't want her to lead the life of a kittypet, but wanted her to be a warrior, instead.
Personality
Edit
Wishflight is usually kind to other cats, is very caring, and will die to protect her Clan.
Mother-Tulip.
Father- Herringtail
Sister- Purplewind