Speedflight is a young tortiseshell she-cat, with blue eyes. She is Flightstar's mate, and the only cat who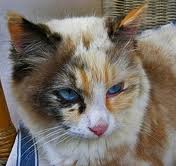 Flightstar didn't shout or hiss at, apart from his old apprentice, Goldenstar.
She is Eagleclan's medicine cat.
History
[
]
Speedflight falls in love with Flightstar just after their apprentice ceremonies, eventually, he falls in love with her, too, and although she is a medicine cat, they become mates. When he becomes leader, Flightstar legalises their relationshp, because the word of the Clan leader is law. The cats are uncomfortable around Speedflight for a while, after finding this out, but come to accept her more, after she finds out the cure for the Vole-Sickness, that killed many Eagleclan cats last greenleaf.